SAXBY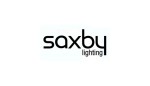 Saxby Lighting - Design and manufacture of commercial and home lighting fixtures with more than 30 years of experience. Our goal is to offer quality, choice, innovation and great service.
Design: Our experience in the lighting industry means we can deliver lighting solutions using the latest LED technology designed for you by our interior designers and our innovation specialists on the South Coast.
Innovation: Progress in LED technology allows teams to be progressive in designing each product, its housing and functional structure.
Saving time: The easy and fast installation is important to us; we understand the demand for performance and want to guarantee the productivity of Saxby Lighting installers.
Larger choice: Our extensive and impressive showroom is centrally located for our customers. Based on Leeds we show a wide range of Saxby Lighting lighting fixtures as well as our more home and decorative lighting from our Endon Lighting and Interiors 1900 series.
Our products are sold in the UK and all over Europe.
---