ELSTEAD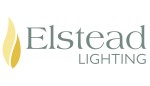 Elstead Lighting is a British company established in 1967 in Mill Lane, Alton, Hampshire, UK, specializing in the production and distribution of decorative lighting. We sell 220-240v luminaires to worldwide customers, illuminating beautiful homes, hotel rooms and public spaces, coffee bars and restaurants in more than 60 countries.
Elstead has assembled an eclectic range of indoor and outdoor lighting fixtures that have a classical influence on design and style. We are proud that we are still using traditional crafts in the production of our luminaires, as well as embracing modern technologies with CNC machines. Much of the Elstead Interior collection is produced in Alton, Hampshire, using traditional welding and patination skills to create distinctive products.
We also choose beautiful design collections from six North American lighting companies with which we have a license to change our products from the US standard 110v to 240v. We work directly with our suppliers to make and modify our products so that they can be certified for use in the UK, Europe, the Middle East, Asia and Australia. Many of these products are handmade and subject to the same detailed quality checks as those made on our site in the UK.
Elstead became global in 2012 when a partnership agreement with four North American lighting brands was signed; Feiss, Hinkley, Quoizel and Flambeau.
---